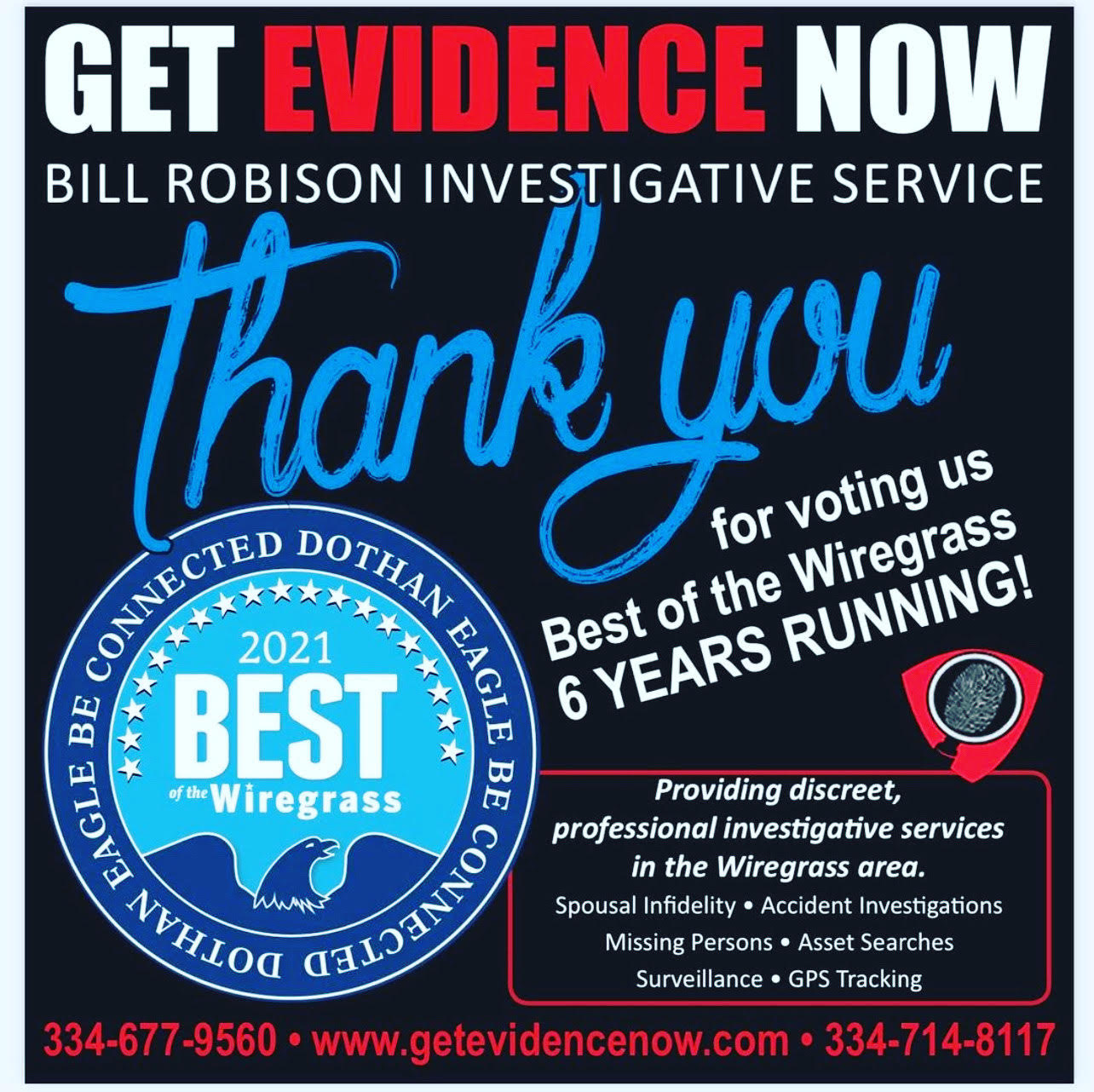 Licensed Private Investigators in Dothan, Alabama
Located in Dothan, Alabama, Robison Legal Services is a full service licensed private investigation agency that has served the Wiregrass area for more than twenty five years. We provide discreet, professional, and confidential investigative services to private individuals, attorneys, corporations, insurance companies / TPAs, and government agencies.
Robison Legal Services specializes in surveillance investigations. Whether it involves a cheating spouse or lover, child custody issues, suspicious workers compensation or insurance liability claim, counter surveillance, child tracking, or any other surveillance need, we can provide you with the evidence and information you need in a timely, professional, and cost-effective manner.
We offer private investigative services throughout Alabama with contacts nationwide. The staff at Robison Legal Services are experienced, highly trained, dedicated, and discreet. Our clients rest easy knowing that they have entrusted their case to a professional private investigative firm with the skill, experience and expertise to obtain the information and evidence their case requires.
28+ Years as an Private Investigator in Alabama
Licensed by the state of Alabama as a private investigator, Bill Robison has provided his clients with discreet, professional investigative services for over twenty years. A native of Alabama, Bill has worked closely with many of the state's businesses, attorneys, law enforcement agencies, and high level political figures.
Born and raised in his hometown of Dothan, Alabama, Bill has lived and worked in the Wiregrass area throughout his entire career. As a result, he has a unique and intimate knowledge of the area and its people that other outside investigators simply do not have. Contact Bill Robison today to see how he can put his investigative expertise to work for you!
Robison Legal Services is available for your private investigation needs 24 hours a day, 7 days a week. Our services include, but are not limited to:
All types of Surveillance

Counter Surveillance

Spousal Infidelity / Cheating Partner


Child Custody

Insurance Fraud

Audio / Video Recorded Interviews

Criminal and Civil Investigations for Law Firms
Background Checks

Public Records

Witness Location

Witness Interviews

Statewide Service of Process

Notary Public Services

Aerial Surveillance and Transport

Water-borne Surveillance and Transport
With over 28 years of experience as private investigators, we have developed a broad network of investigative contacts across the United States. Wherever you might need our assistance, we can help! Call us at 334-714-8117 to find out how we can help you.
As private investigators, one of our first and most inviolate rules is that discretion and the client's privacy – your privacy – are paramount. As professional private investigators, we know that the cases on which we work are often both urgent and delicate in nature. We will hold your case details in the absolute strictest confidence and will never discuss your details with anyone without first obtaining your permission to do so.
We service the entire southeast United States and have associates throughout the country! If you are in need of an experienced, reliable, professional private investigator, call us. Even if our team may not be able to help, our extensive contact list will put you in touch with another honest professional investigator in your area! Don't forget to visit our partner site Robison Legal Services, LLC , all licensed Alabama Private Investigators.

Some of the cities we serve include:
Dothan, AL

Fort Rucker, AL

Albany, GA

Tuskegee, AL
Eufala, AL

Birmingham, AL

Callaway, GA

Montgomery, AL
Troy, AL

New Brockton, AL

Enterprise, AL

Ozark, AL
Dawson, GA

Daleville, AL

Bainbridge, GA